DIY Soldering Kit for IV-11 VFD Nixie Tube Clock
What is it?
This is the DIY Soldering kit version for the IV-11 VFD Tube Clock
Vacuum Fluorescent Display technology or VFD in short, was invented in 1950s and it has since evolved over time from Vacuum tube indicators to Digital Digit Display in 1962. VFD technology is still used in many applications today, but not in the appearance of a tube.
The VFD we see today are flat and because VFD display does not require back light, is able to constantly display in high brightness, digits can be displayed in several colors, content is highly customizable, VFD technology is still the preferred display medium today; VFD displays can be found in automotive, high-end instrumentation, Hi-Fi devices and intelligent terminal, such as our car audio display, Blu-ray player, desktop multi-meter, supermarket cash register, etc.
The tubes
VFD tubes contain phosphor coated anode that is bombarded by electrons emitted from the filament, and can come in different colors. VFD tubes unlike Nixie tubes, do not produce heat during operation.
Our tubes are 100% authentic brand new IV-11 VFD tube made in USSR between 1980s-1990s and are out of production. The glass body is cylindrical with 22.5mm diameter, side display, 11 fly pins (8 anodes corresponding to 7 segments and 1 decimal point, 1 grid pin, and 2 filament pins).
Below are the images of IV-11 tube and the translation of the original information content,


The Base
The base housing is made with real hard wood frame for stability and character; and laser-cut black opaque acrylic for the top and bottom cover to effectively bring out the glow from the tubes and LED. The base houses the gold plated PCB, and RGB LED Back Light.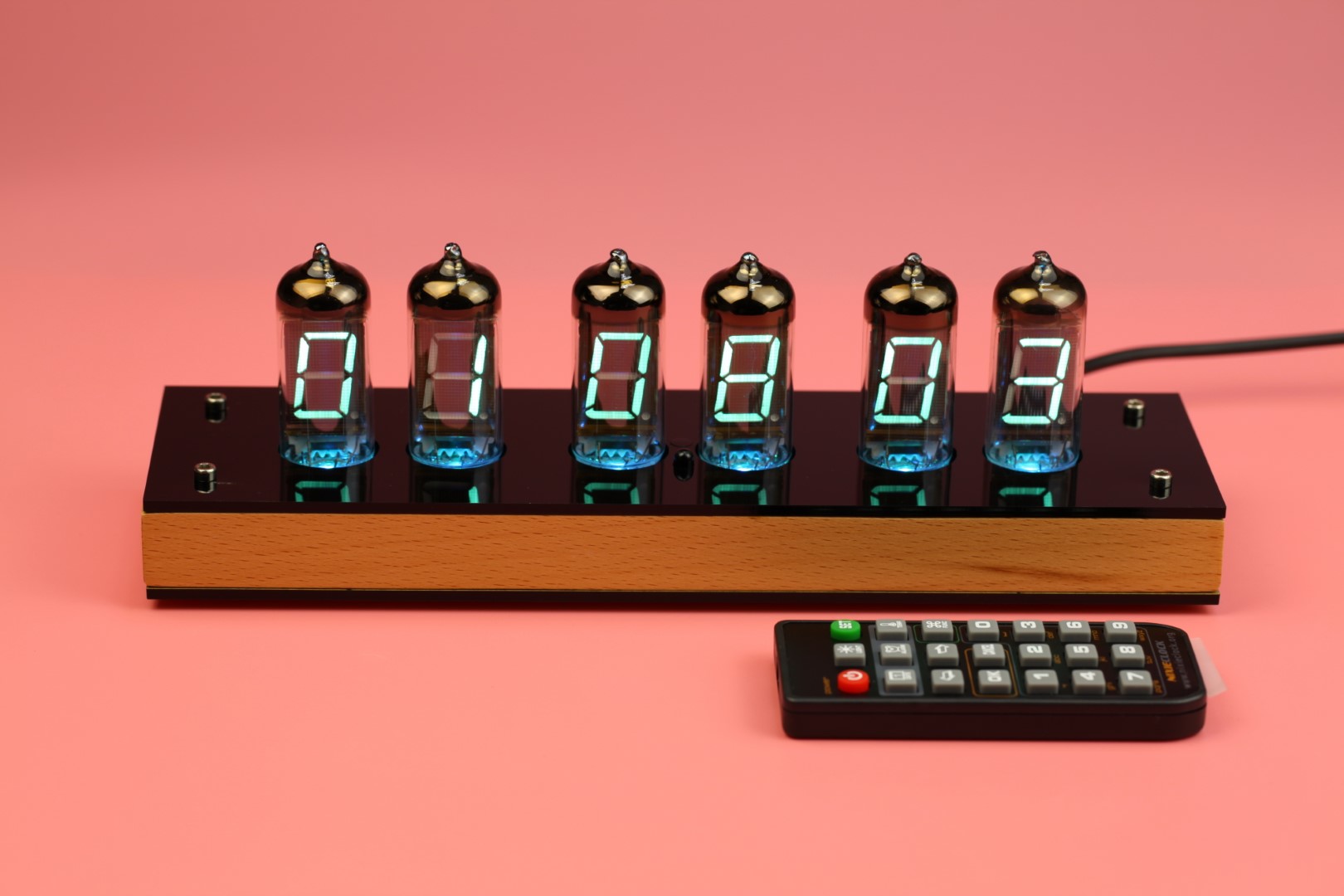 Operation
The VFD Tube Clock functions are manually adjusted using the provided infra-red remote control. If you prefer automatic tracking of local time, the GPS receiver can be plugged in with the additional ports provided in the wooden frame. Optional thermometer can be connected to the additional port in the wooden frame should you wish to include temperature reading function and display.
A semiconductor ambient light sensor (not photosensitive resistor) is added in to automatically control the digit and back-light brightness according to the ambient brightness.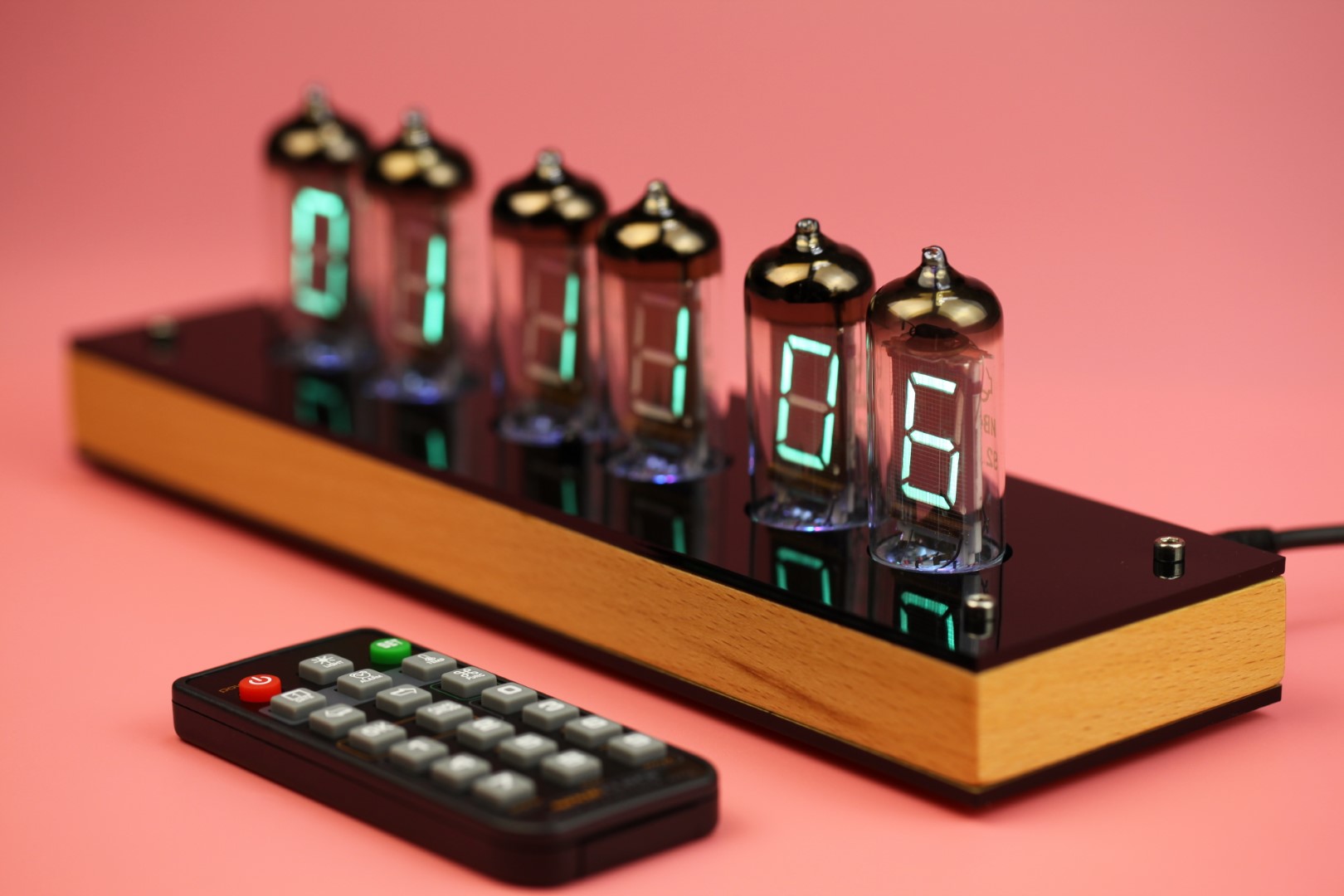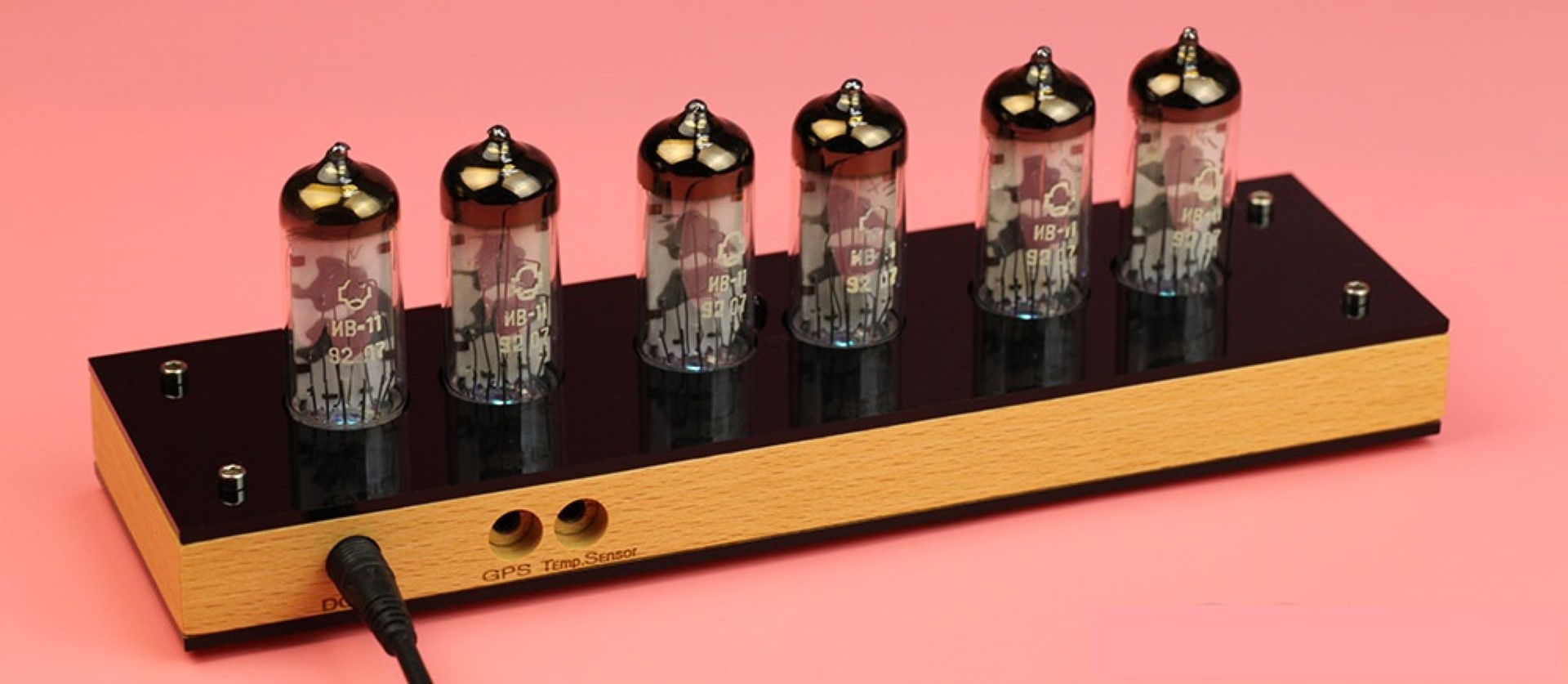 Features
| | |
| --- | --- |
| 1. Time display | Display hour, minutes and seconds (12 or 24 format, lead zero On/Off supported). |
| 2. Date display | Display year, month and day (YY-MM-DD/YY-DD-MM/DD-MM-YY/MM-DD-YY date format). |
| 3. Lunar date display | Calculate and display Chinese lunar date in relation to solar calendar. |
| 4. Day of week display | Display day of week. |
| 5. Alarm | Two alarm clocks, can be activate separately. |
| 6. GPS Configuration | Automatically adjust the date and time (GPS receiver is optional). |
| 7. GMT time zone functions | The clock will calculate the local time based on satellite. |
| 8. Temperature display | ℃ or ℉ operational (Temperature sensor not provided). |
| 9. Switch On/Off automatically | Auto On/Off time can be set to increase tube lifespan. |
| 10. Automatic Brightness | Automatically adjusts brightness level of VFD tubes and LEDs based on ambient lighting. |
| 11. Transition effects | 10 transition effects for the digits, and 10 transition speeds available |
| 12. Background lighting | 8 colours selection, Back light settings include Fade in-out, On and Off. |
| 13. IR remote control | IR remote controller operation. |
| 14. High accuracy | Built-in high precision RTC module, accurate to within 60s per year. |
| 15. Power off memory | Built-in backup lithium battery will maintain clock accuracy, all settings are saved without power for at least 3 years. |
| 16. Gold Plated PCB | Curved tracking with tear pads to prevent wearing off. |
| 17. Static drive, non-dynamic scanning | Effective in extending tube lifespan, no blinking, stable and reliable performance. |
| 18. Highly Efficient | High efficiency DC-DC step-up/step-down module with low power consumption. |
| 19. Effective Tube Driver Module | Tube driver module fully powered down with POWER button, including anode and filament power, effectively extending the lifespan of VFD tubes. |
| 20. Premium Finish | CNC machined hard wood base with black acrylic plates for a smooth and premium finishing; good for complimenting your interior décor. |
Technical Specifications
VFD tube
IV-11(ИВ-11 1980s-1990s Made in USSR)
Voltage of DC input
DC 5V (3.5mm/1.35mm)
Operation current
Max 900mA
GPS requirement
TTL port, 2400-9600bps, 3.5mm headset plug
Temperature sensor requirement
18B20, 3.5mm headset plug
Dimension
Base 240mm(L) x 70mm(W) x 25mm(H)
Height of VFD tube 50mm, diameter 22mm
Material of housing
Hard wood and acrylic plates
Operating temperature
0℃ to 60℃ (32℉ to 140 ℉)
Weight
360g
Each Set Contains
6pcs IV-11 VFD tubes.
12pcs tube spacers.
1 set wooden & acrylic housing, including all spacers and screws.
All components, ICs, MCU have been programmed.
1 nos. Gold plating PCB board.
1 x IR remote controller.
1 x Power adapter (world wide use voltage).
Download Instruction Manual & Assembly Manual after your purchase in the "order confirmation" page or simply log into your account and download from "Downloads" at your convenience.
For the assembled version of this clock, please click here.
Contact us here if you have any questions regarding the IV-11 VFD Nixie Tube Clock DIY Soldering Kit.