Omnixie Plus Smart WiFi Nixie Clock
What is it?
Omnixie Plus as the name suggests, is the bigger brother of the original Omnixie Clock. Packed with the same great WiFi synchronization and automatic functions such as auto-brightness, self synchronization and daily color settings for LED. Omnixie Plus still boast the slimmest Nixie Clock base in the market. Now, for bigger Nixie tubes.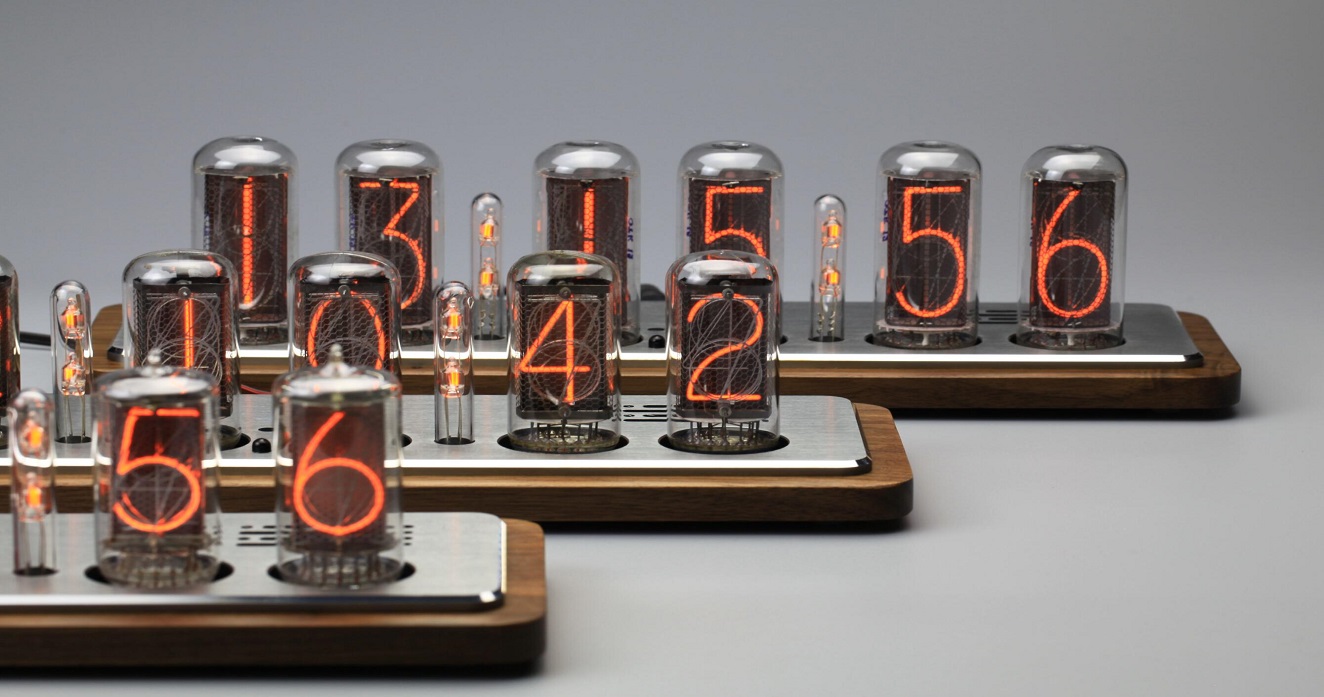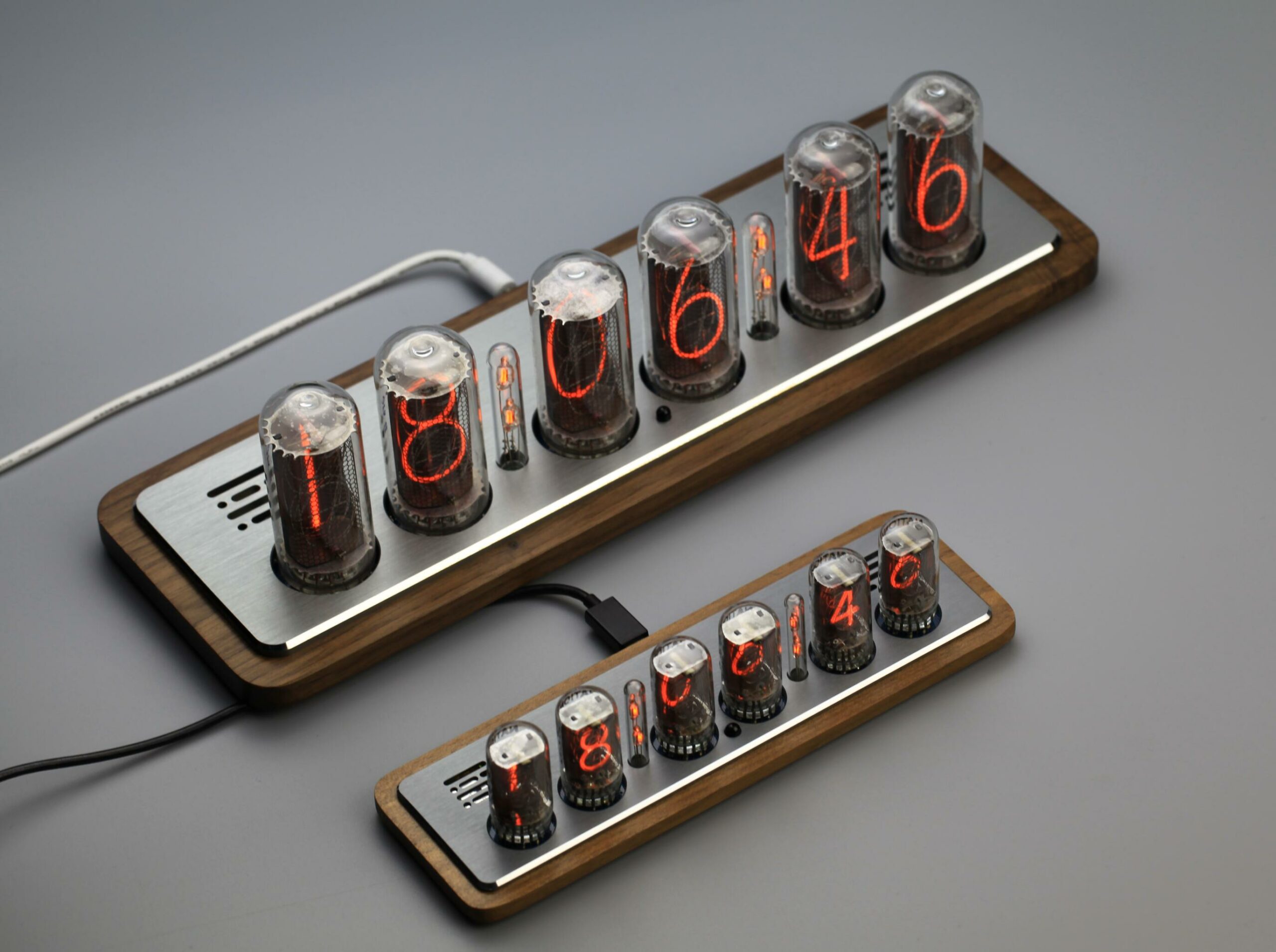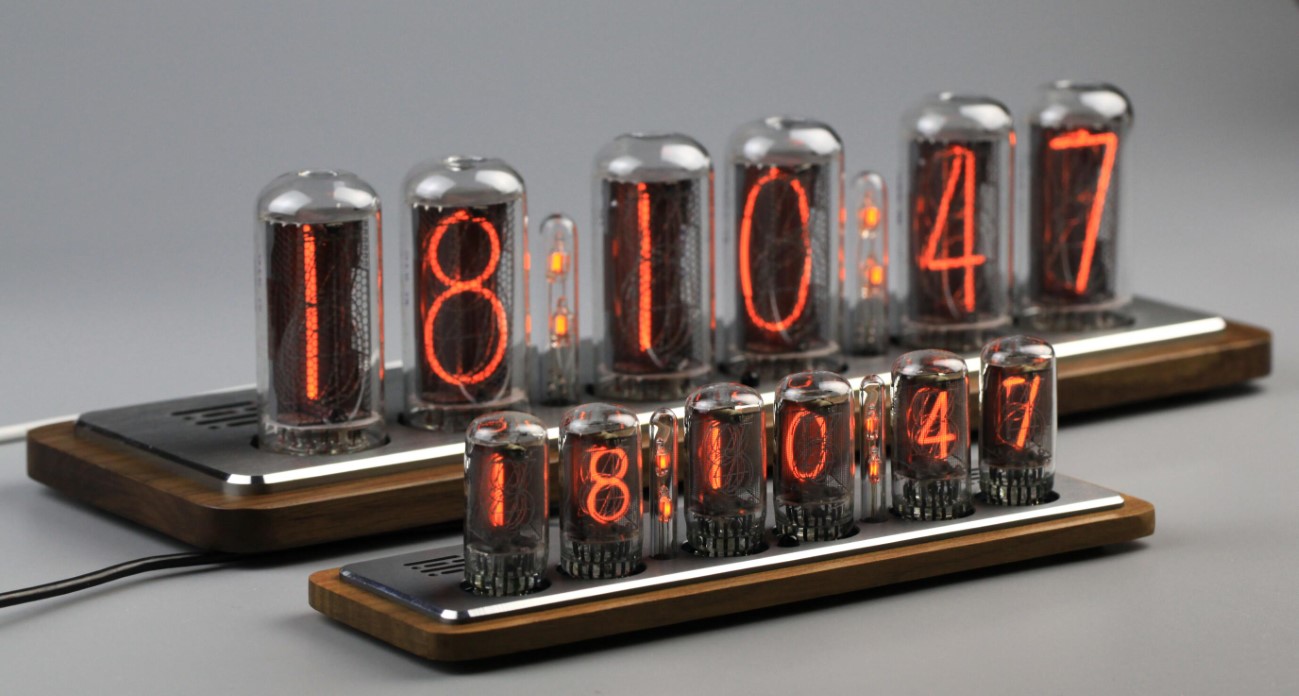 Nixie tubes (optional), Colon Tubes Provided
The Omnixie Plus Nixie tubes are optional, you may choose to purchase them directly from us, however, we are currently only able to supply IN-18 tubes. For the model excluding tubes, Omnixie Plus comes in 2 different pin definition: 1 for the IN-18 & another for the Z566M, Z5660M , ZM1040 or ZM1042 tubes. Please specify before making your purchase.
Any tubes with B13B pin definition in the ZM series are compatible with our Omnixie Plus E.g.: Z566M/Z5660M from RFT made in Germany, ZM1040 from Philips/Siemens/Tesla/Ultron/Valvo, ZM1042 from AEG/Siemens/Tesla/Valvo, LC-631 from Unitra Dolam.
Tubes are plug and play, which means, no additional adapters needed, after purchasing your own tubes, you may plug it in like you normally would for the Omnixie. Colon tubes will be provided and are now removable as well.


Omnixie Plus Nixie Clock Base
Omnixie Plus still boast the same design for the base, only wider and thicker (10mm) base to cater to the bigger tubes.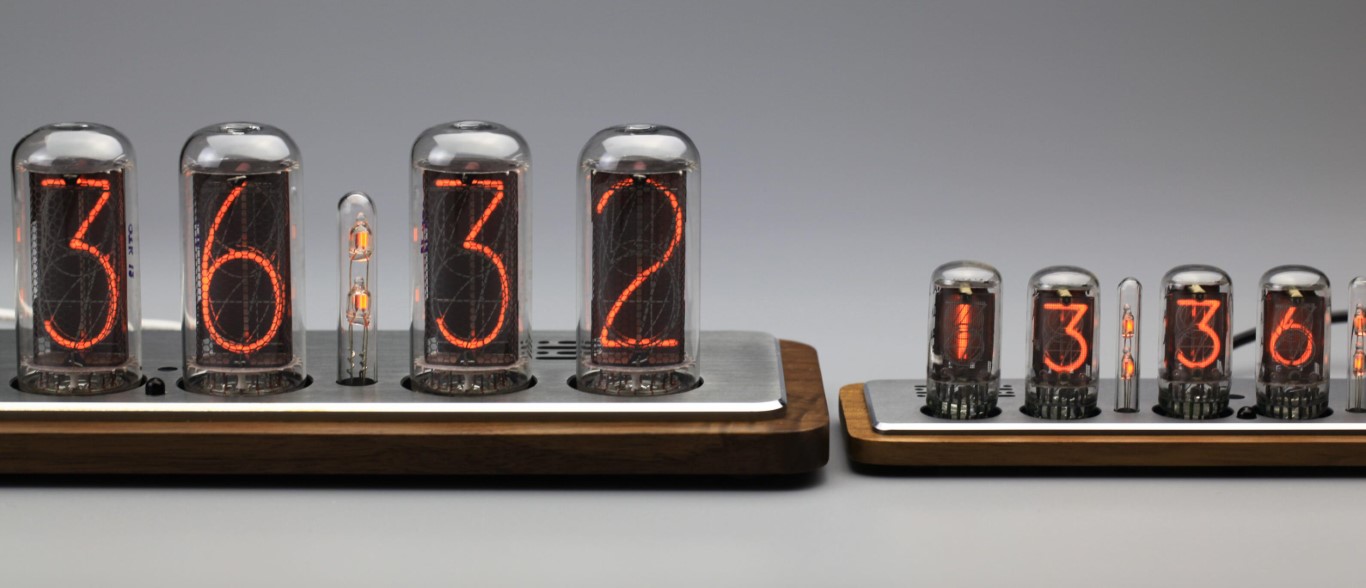 The base housing is made with Aluminum alloy panel on the top, with carbon gray anodizing, 600 mesh drawing process and high light edge processing. The bottom is made with 304 stainless steel with wire drawing and the peripherals are made with all natural black walnut wood.
Omnixie Plus Nixie Clock Operation
Our Omnixie Plus Nixie Clock operates differently from your traditional button-adjusted Nixie clocks, our clock doesn't come with any buttons and we have migrated the operation of the clocks to our IR remote control and WiFi controls.
To match the premium design, we have included a WiFi module to allow for auto synchronization of the date and time with NTP servers for higher accuracy (NTP time accuracy is approximately 1-50ms).
The same NTP protocol used to synchronize the time on your computer, all you need to is connect your clock to your router for the first time and the clock will handle the rest.
Or you may choose the fastest NTP server based on your location (WiFi connection is only needed for initial set-up, no recurring connections needed on your part.). In other words, maintaining better time accuracy as compared to traditional time modules.

Enhanced Features
Automatic/Custom Brightness
Omnixie Plus uses a visible light sensor, the light-sensitive resistor effectively filters infra-red light and collects visible natural light to control the brightness of the Nixie tubes. The clock also comes with 8 brightness levels for the Nixie tubes and back lights, which can either be custom or set to automatic adjustments according to ambient light conditions.

Phonetic Chip
The Omnixie Plus comes with a built-in phonetic chip to support speech system in English, Chinese, Japanese and German; and can trigger any time with a push of a button on IR remote or set to automatic speech at regular intervals.
Omnixie Plus Nixie Clock Infra-red Remote Control & Power Supply
Every Omnixie Plus comes with an Infra-red remote control and 12V DC power adapter and barrel connector power supply.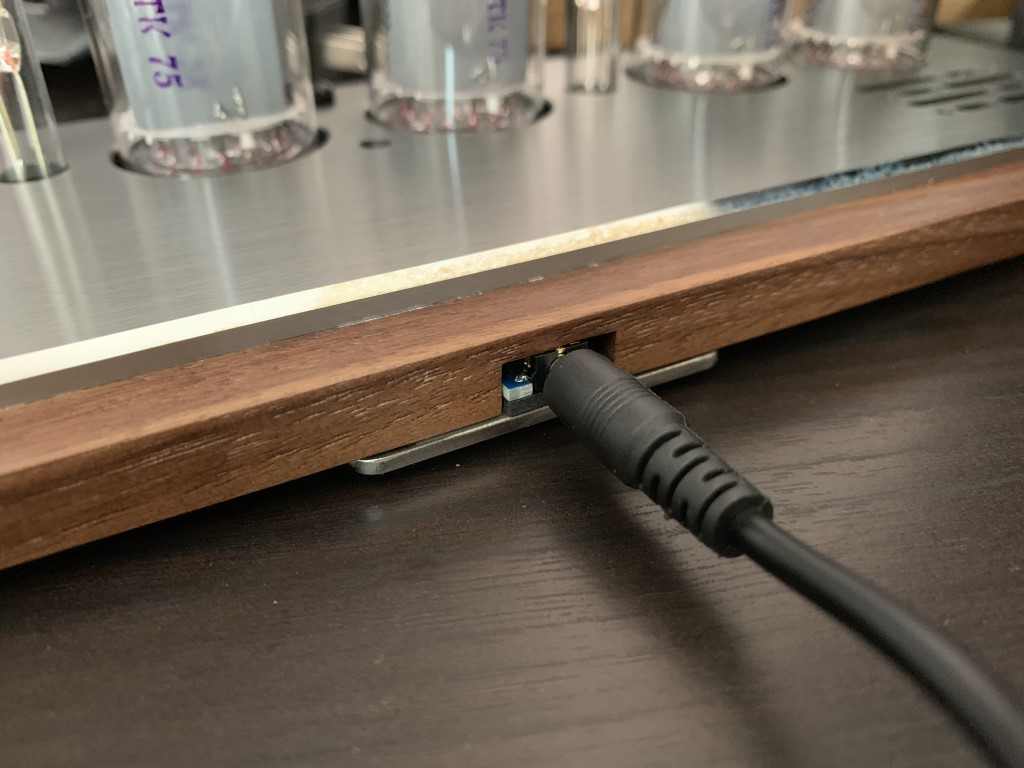 WiFi Connectivity
The Omnixie Plus supports DHCP settings for external network access, supports mDNS for browser domain name access, supports SSDP for fast network discovery.
For the various settings of the Nixie clock, we provided a new setting interface, users can access their Omnixie Plus dashboard to configuration of all the Omnixie Plus features through any web browser, including iPhone, Android, Mac or PC. For more information, please refer to the installation manual.
Omnixie Plus Nixie Clock Packaging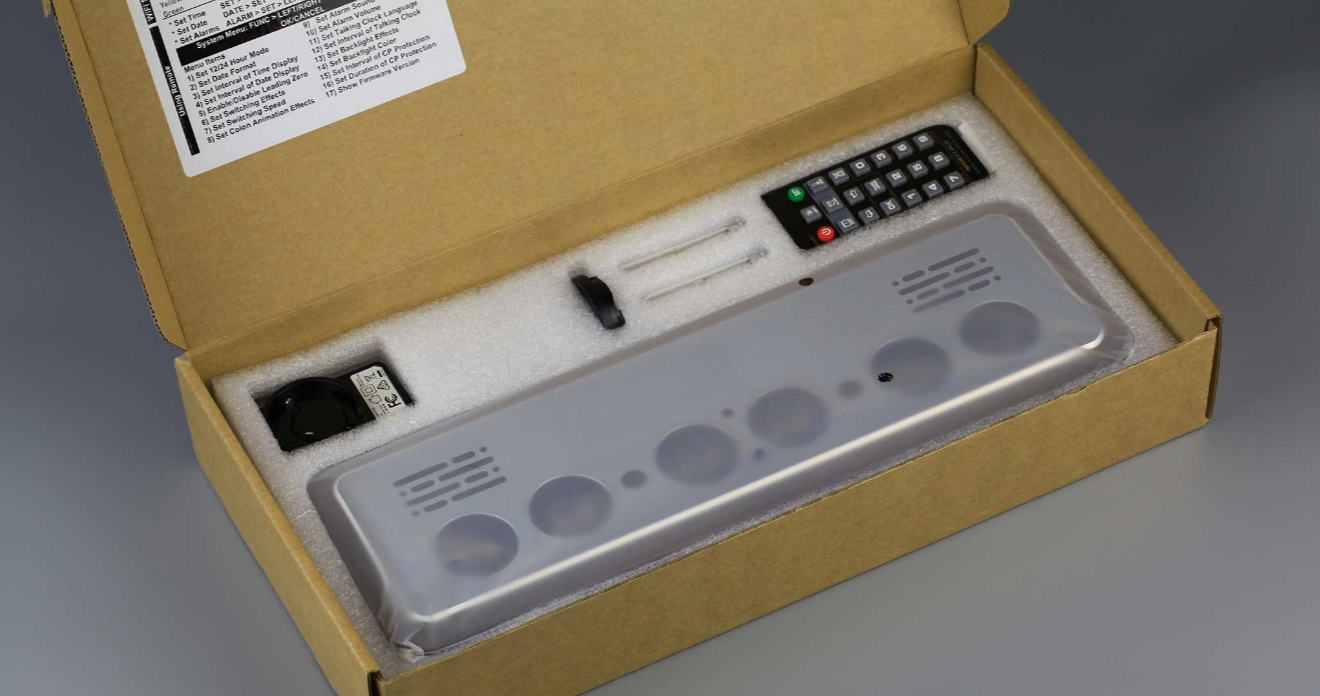 Other Features
| | |
| --- | --- |
| 1.      OTA firmware upgrade | The system firmware can be upgraded directly through web interface |
| 2.     4 alarms/ 12 alarm tones | 4 individually configurable alarm clocks, supports snooze function, weekend activation optional. Comes with 12 different alarm tones to choose from |
| 3.     Music key tone and alarm | Variety of key tone sound effects for easy setting confirmation. 12 kinds of alarm music, the alarm volume can be set independently. |
| 4.     Switch On/Off automatically | On and Off time can be set to extend tube lifespan. |
| 5.     IR remote | IR remote controller operation. |
| 6.     Adjustable Volume | 8 volume levels with independent Alarm volume, mute function on the main volume does not affect alarm settings. |
| 7.      Digits transition effects | 1. Normal 2. Fade in-out 3. Crossfading 4. Slot machine. |
| 8.     Transition speed adjustable | 10 speeds available for transition. |
| 9.     Colons effects | 1. Fade in-out 2. Blinking 3. Always on 4. Always off |
| 10.  Background light effects | 1. Always on 2. Fade in-out 3. Always off |
| 11.   Background light color scheme | 15 types of background light color scheme can be configured. |
| 12.   Time Display | Supports 12 or 24 hour displays |
| 13.   Rotatable & Replaceable Tubes | Simple Plug-n-Play design enables easy replacement and rotation of tubes (No Soldering) |
Technical Specifications
Power input
DC3.5/1.35 Barrel Connectors
Voltage
DC 12V
Current
600mA Max
WiFi standard
IEEE 802.11 b/g/n
Frequency range
2.412GHz – 2.484GHz
Antenna
Built-in PCB
Dimension

 

Length x Breadth x Height –  320mm x 103mm x 10mm
Tube height – 62mm – 71mm
Base housing material
Aluminum Alloy, Natural Wood、304 Stainless Steel base
Operation temperature
0℃ to 60℃ (32℉ to 140 ℉)
Weight
910g without packaging, 1.1kg with packaging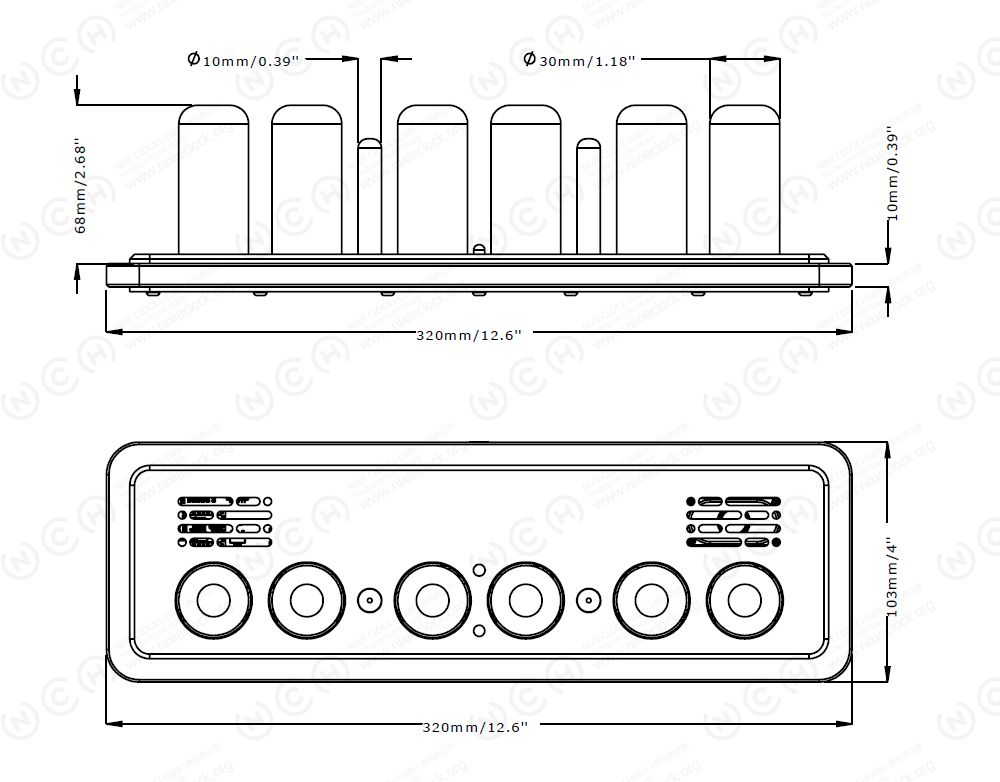 For models

without

tubes, each set contains:
Omnixie Plus clock with black walnut wood finishing
DC 12V Barrel Connector with adapter
IR remote controller
2 x detachable colon tubes
For models

with

IN-18 tubes, each set contains:
6 x IN-18 Authentic Russian made Nixie tubes
Omnixie Plus clock with black walnut wood finishing
DC 12V Barrel Connector with adapter
IR remote controller
2 x detachable colon tubes
Download Instruction Manual after your purchase in the "order confirmation" page or simply log into your account and download from "Downloads" at your convenience.
Discover our other Nixie Creations here. Or consider the smaller Omnixie here.
Contact us here if you have any questions regarding our Omnixie Plus Smart WiFi Nixie Clock.